2018 Annual Report
---
Please find below the link to the 2017/2018 Medical Appraisal Scotland Annual Report: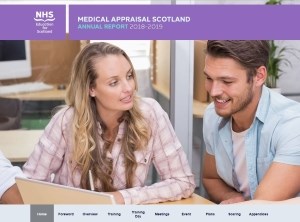 Please note the Annual Report is a mini website, and has been designed for on-screen viewing rather than print.
If you wish to be included in future Annual Report notifications, please email Medical.Appraisal@nes.scot.nhs.uk and let us know who you are (Name, organisation, preferred email address) and we will add you to our list.
Text-only Microsoft Word version also available below.
Related Documents
Annual Report 2018 (TEXT ONLY)
TEXT ONLY, MS Word version of 2018 annual report
Date updated: 27/05/2022
Size: 606453 - KB
Type: docx
This page was last updated on: 11/05/2021