Summary of the suggested timescales
---
Below document is a summary of suggested timescale for each key stage of the appraisal process.
Appraisees are recommended to start reviewing and considering appraisal (and revalidation) requirements 6 months before next appraisal is due; with a view to start preparing the supporting information up to 3 months before the appraisal meeting.
Appraisal forms and supporting information should be submitted and shared with the appraiser no later than 2 weeks before the date of agreed appraisal meeting, unless agreed otherwise.  This gives the appraiser time to review and prepare for the appraisal.
Appraisers are recommended to completed the necessary Form 4 draft no more than 2 weeks after the appraisal meeting whilst the meeting is still fresh on their minds.
Once the processes are completed on SOAR, the system will send out automated confirmation emails to appraiser, appraisee and local teams.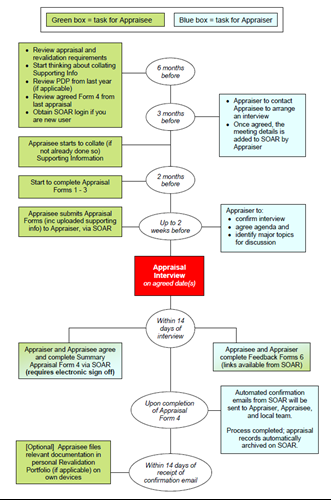 Related Documents
Suggested Timeline
Suggested timeline on Medical Appraisal process for doctors working in Scotland
Date updated: 06/01/2022
Size: 34071 - KB
Type: pdf
This page was last updated on: 06/01/2022